Sweet Potatoes! My favorites…they are naturally sweet and are the perfect complex carbohydrate.  They smell so yummy when they are baking in the oven. With this recipe I use my favorite ingredient into delicious muffins.
Most muffin recipes use white flour, sugar, canola oil and dairy – but not these healthy muffins. Each of these Sweet Potato Protein Muffins is packed with nutrients, vitamins, minerals and 9 full grams of protein. Perfect for a pre-workout treat or as a nutritious breakfast.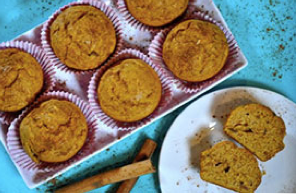 Here's what you need:
1 cup almonds (or almond flour)
10 dates, soaked in hot water for 10 minutes
1 cup baked sweet potato, skin removed
1 cup vanilla flavored protein powder
3 organic eggs
1 teaspoon vanilla extract
1 teaspoon ground cinnamon
1/2 teaspoon ground nutmeg
1/4 teaspoon baking soda
pinch of sea salt
1. Poke a sweet potato all over with a fork and bake at 425 degrees F for 40 minutes. Remove from oven, cool, and remove the skin. Reduce oven temperature to 350.
2. Pulse the almonds in a food processor until finely ground. Add the remaining ingredients to the food processor and pulse until fully combined.
3. Generously grease a 12-muffin tin with coconut oil. Divide the batter between the 12 muffin tins and bake for 15-20 minutes.
Nutritional Analysis: 134 calories, 6g fat, 107mg sodium, 10g carbs, 2.4g fiber, 9g protein
(Visited 224 times, 1 visits today)