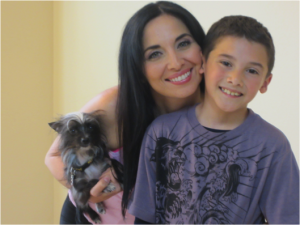 Hi I'm Sylvia Favela, the Body Weight Pilates expert and mom of an amazing son!  And that's our little Chorkie "Rocky" we rescued him from the local pound.
It's definitely out of comfort zone to talk about myself but I know it's proper to pull the curtain back and share my life experiences and how I followed my true passion of helping women feeling amazing about themselves from the inside out!
Back in the day I was not a skinny girl at all, you see being a Latina girl growing up my mom cooked all the yummy traditional Mexican food I just couldn't resist. I was the chubby one who loved eating and my weakness, pan dulce! I love that still to this day (I can't believe I just spilled the beans on my number one weakness).
As I got older I was made fun of being the "Gordian" (that's chubby in Spanish), that was cool for a while but as the years went by it wasn't so cool anymore…Yikes!
The teasing wasn't fun and my self-esteem took a nosedive!
So, I did what I saw on the info-commercials and bought the video "Buns of Steels"
And got my first gym membership.  I went around the gym doing what I thought was the right thing and I started running. It sort of gave me the results I was looking for but still something was missing.
I kept that up because it seemed to do a good enough job to get rid of the feeling of being the chubby girl.  But, it all changed after I was busy with work and starting a family.
The running I had done over the years caught up to my knees and me started to ache and hurt. One morning I woke up and both knees were super swollen, I couldn't walk and for sure I thought I dislocated or tore something.  So there I was with ice packs on my knees.  My doctor said I had water in my knees and I needed physically therapy to get them healthy again.
That's when I discovered the one missing link…Pilates! The physical therapist I frequented incorporated Pilates.  And I fell in love with Pilates…
Not only did my knee feel 100% better but the workouts I did started to change my body in a way that exercising in a gym never achieved.  My legs were lean, toned without looking or feeling bulky.  My tummy, Wow! I couldn't believe how my body transformed.
Then life happened; with work and starting a family my stress level skyrocketed and getting to my Pilates workouts was a challenge.  To make matters harder, when I was 6 months pregnant I almost went into early labor and per my doctor was put on bed rest.
It was torture to not be able to move about and after following doctors orders for two weeks I begged to get back to my Pilates workout and my doctor finally approved it.
So there I was back to my Pilates routines and it was the best remedy ever.  I was able to continue my workouts through the end of my pregnancy and after having my son I had gained over 40 pounds.
I had experienced Pilates as the missing link to getting into shape, in the past I went to the gym but it never gave me the results I really was looking for.
Once I became a Pilates Instructor I researched and used myself as a test subject to find the right blend of Pilates and Cardio that really worked.  What I discovered truly was amazing.
I followed my dream to help other women reach the fitness goals they sought after.  I opened "My Pilates Stu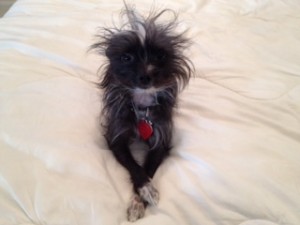 dio" and helped thousands of women get the tone, lean and sexy body they dreamed of.
We see tons of celebrities and models doing Pilates to get in shape.  I don't have hours and hours to workout everyday.  I crafted the perfect Pilates workout that fused all the body toning and firming moves with fat melting cardio.
I've been very fortunate to touch the lives of many women, (and a few men) with Pilates and this blog allows me to share what I have experienced and the Benefits of Pilates literally transformed my body.
Today, I continue to coach and teach Pilates with my private clients who come and see me in my studio here in Southern California. As well as share my finding, new discovery and research with you here on my blog.
You can always look to me and count on me to bring the most up to date findings on Fat Loss and Pilates Exercises that get you into amazing Sexy shape.  I don't hype things ups or BS around with you.  I'm pretty straight forward, no sugar coating anything.
I'll do all the research and testing, report the facts and findings here on this blog and share with you and whenever necessary bring attention to the half truth of what the weight loss and fitness industry doesn't want you to know.
Stay Beautiful and Sexy….
Your friend,
Sylvia – "The Pilates Chick"
(Visited 3,786 times, 1 visits today)