Call me crazy but I can eat eggs all day long.  It's one of the foods I craved when I was pregnant with my son.  Till this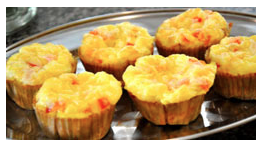 day eggs are his favorite.  When I make this for him he clears the dish, so I have to grab a few before he gets to it.
Here is a perfect snack anytime of the day. I call it the Quick Egg Muffins, it's a guilt-free snack. Each muffin is packed with protein that will fuel your day and support a healthy lifestyle.
Make a bunch of these and save them in the fridge for on-the-go snacks.
Here's what you need…
6 omega-3, organic, free range eggs (or egg whites)
1/2 red bell pepper, finely chopped
1/8 cup of organic shredded cheese
sprinkle of salt and pepper
1. Preheat oven to 360 degrees F.
2. Line muffin tins with paper liners or grease lightly.
3. Mix up the eggs, add bell pepper, cheese and seasonings. Fill 6 muffin tins.
4. Bake for 20-22 minutes, or until the egg is fully set.
My son loves it when I dice up ham and mix it in.
It's quick and easy, try this at home!
Get More Healthy Recipes Here in my Core Group:

(Visited 76 times, 1 visits today)