I Love This Wrap!
This wrap is savory and refreshing, and is the perfect meal to keeping your diet clean.  I recommend roasting your own bell pepper, since most store bought roasted bell peppers are packaged in oil. To do so simply put it on the grill until soft and then peel the skin after it cools.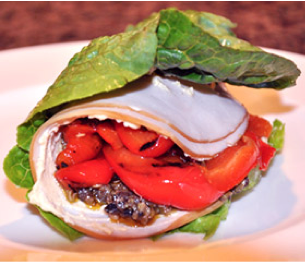 Here's what you need…
* 1 large leaf of lettuce
* 2 slices lean turkey
* 1 roasted red bell pepper, cut into 4 segments
* 2 tablespoons garlic hummus
* 1 tablespoon olive tapenade
1. Lay the lettuce leaf flat and spread with 1 tablespoon of hummus. Place the turkey slices on the lettuce and spread with remaining hummus. Sprinkle the olive tapenade over the turkey and top with the roasted bell pepper.
2. Wrap the lettuce, use a tooth pick to hold it together.
Nutritional Analysis: One serving equals: 170 calories, 6g fat, 15g carb, 5g fiber, and 15g protein.
(Visited 132 times, 1 visits today)