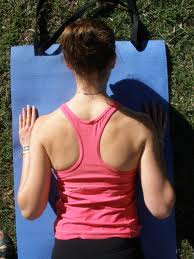 When doing Pilates you will find the mass majority of Pilates exercises requires body weight positioning, which means bearing weight on the hands and wrists.
Although there is a certain technique when doing every single Pilates move, but I have seen and worked with many people and they try to move their body or compensate with another muscle in their body.  Body awareness is huge with Pilates and I'm not surprised with how many people struggle with this.
I continue to work with people that have been training in an array of different sports or physical activities, they walk in and after a thorough Pilates session they are shocked with the weaknesses they have in their body.
Placement of the hands is important to ensure the proper alignment of the shoulder, when the hands are positioned incorrectly the movement of the exercise will be compromised.
I asked my Canadian friend Rick what tip he can give to help with positioning of the hands and where to keep the most pressure and tension while working through a shoulder exercise.
Check out what he had to say…
Thanks Rick!
Rick has helped me and hundreds of others regain their strength and mobility from a shoulder injury. You can use his techniques and expertise to help you in your Pilates workouts or if you're working out in the gym make sure to head over to "Fix My Shoulder Pain"
(Visited 98 times, 1 visits today)