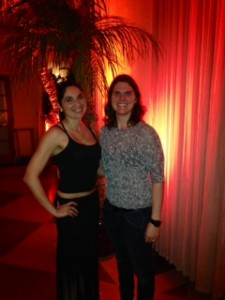 I have a treat for you today! Kate, my Aussie…New Yorker fitness trainer sent over a great article and workout video for you today.
Have fun & enjoy!
================================
#1 Fat Burning Workout (you should totally do)
by Kate Vidulich, BSc, ACSM-HSF, CTT, Exercise Physiologist
Author of the Fat Loss Accelerator program
According to research, the average gym junkie spends an extra 30-90 minutes doing cardio, for 3-5 days a week.
Ironically, the number one reason for skipping a workout is lack of time…
Hmmm. Now that's very interesting don't you think?
Have you ever felt guilty for missing your planned workout?  I sure have.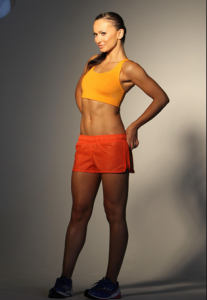 It's that nasty stinking feeling. Despite your best efforts, your schedule has a meltdown and your workout time is first on the chopping block. Game ever.
But you know, something is better than nothing. Seriously, what can you do if you ONLY have 15 minutes to spare?
Treadmill running again?
I tried this "cardio junkie" approach too – but all I got was skinny fat and addicted to terrible daytime talk shows – until I discovered Fat Loss Accelerators.
What is a Fat Loss Accelerator? It's a NEW, secret technique I call HMC, that I use to challenge my high profile NYC clients, to help them break plateaus and destroy workout boredom.
HMC = Hybrid Metabolic Complexes.
This style of workout is designed to replace cardio and even traditional intervals you would normally add to your workout or for off-day conditioning.
Who is this workout for?
It's NOT for people who hate training hard. If you're looking for an essay way out or the latest quick fix, this is definitely not for you.
It's for intermediate and advanced folks who have reached a plateau, or are bored with their usual cardio or intervals workouts and are looking for something different.
Ready to rest yourself? Here's a Fat Loss Accelerator workout you can try today. You can add this Accelerator at the beginning of your workout, to get your metabolism cranking. And the best part is you don't need anything but your sexy self… 😉
Warning: It's not for the faint hearted.
Give "The Bodyweight Booster" a try below…
Do each exercise in order with no rest. Aim for a fast, controlled pace with a smooth transition between exercises. At the end of the circuit, rest for 30 seconds. Repeat for 3 rounds:
Single leg walkout to curtsy squat x 6 each leg
Super Prisoner Squats x 1
Push Ups x 6
Crab crawls x 6
Why is this so effective?
You can boost your metabolism without killing any one muscle group, allowing you to burn more calories faster with total body movements. You only need one weighted resistance (such as a pair of dumbbells) and a small workout space.
Metabolic workouts, like this one, increase the afterburn effect to significantly higher levels than traditional cardio workouts, meaning you burn more calories after the workout, while at rest.
More importantly, you can add Fat Loss Accelerators workouts to your current workouts to replace your cardio and use for off-day conditioning, so you don't have to start all over again.
You'll burn even more calories, lose more fat and boost your afterburn, while getting expert instruction and having fun with me at the same time.
Click here to Get the NEW Fat Loss Accelerators 2.0 System
Rock on!
Kate Vidulich,
=======================================================
If you luv Kate's workout and are looking for a few more moves be sure to check out her program right on the next page HERE.
(Visited 784 times, 1 visits today)