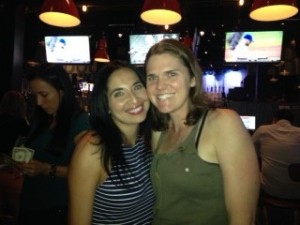 I have a treat for you today!  My Australian friend Kate sent over a Bodyweight Cardio workout to share with YOU! Just last month in Las Vegas, I hung out with Kate and some of my other top Fitness Pros for a weekend of knowledge and FUN!
I'm pretty sure the first thing that comes to mind when you think of Vegas is late night festivities.
But we actually had too much fun chatting and having some Yummy Desserts! And by indulging in a few sweets a very necessary round of Bodyweight Cardio was needed.
Enjoy the article and workout from Kate below…
=============================================
3 Exercises for a Sexy Butt (NO equipment)
By Kate Vidulich, Creator, Bodyweight Cardio 500 
Yeah, you do squats. But aren't you ready to mix it up a bit? Of course you are. 😉
Here's the thing… You don't need to spend half an hour on the abductor/adductor machines at the gym. Or even do a million squats to get a fitter, firmer butt. This is my secret, magic formula: Activation – Strengthen – Fatigue Try this quick, 3 exercise circuit that targets your glutes and get a fitter, firmer butt just in time for the holidays.
You don't need any equipment so heck, you have no excuses. 😉 Note: You must do these exercises in the order listed. It's very important for the progression of the circuit.
1. Single Leg Glute Bridge It's one of my all time favorite exercises, and you will find it in most of my dynamic warm ups. Reason being, this is the best move to fire up your glutes and get them activated – seeing as we spend too much time sitting.
Plus ANYONE can do this move. The idea is raise your hips up off the floor until your knees, hips and shoulders form a straight line.
If you're having trouble getting range of motion, try the glute bridge with both feet on the ground instead. Do 15-20 reps on each leg.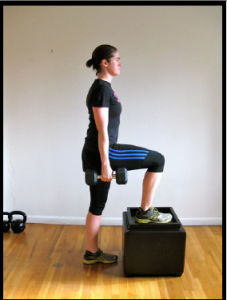 Step Up 
This is a simple exercise – but one of the best for getting a sexy backside. You may have seen plenty of variations, so here's how to do it: Stand in front of a bench or step and place your left foot firmly on the step, high enough that your knee is bent 90 degrees.
(A) Drive the weight through your left heel and focus on squeezing your butt. Push your body up until your left leg is straight and you're standing on one leg on the bench, keeping your right foot elevated.
(B) Lower down until your right foot touches the floor. Do 12-15 reps on each leg. Note: You shouldn't feel pain in your knees.
As a sexy bonus, this move will help you climb stairs like a ninja 😉
Single leg Walkout to curtsy squat
You won't find this exercise in any textbook or magazine – because I made it up! It's a total body move that will target your butt. Here's how to rock it: First, do a reverse lunge, followed by a single leg walkout, one cross body mountain climber, a push up and then finish with a curtsy squat.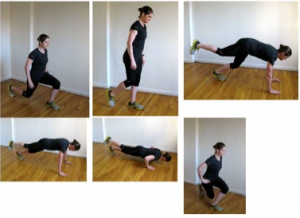 Yep, that's one insane rep. Just aim for 5-8 reps each leg to start with and take your time. The quality of the movement is far more important than trying to rush. Try to keep your non-working leg off the ground for the entire set.
Here's a quick summary of the sexy circuit:
(A) Single leg glute bridge x 15-20 reps
(B) Step Ups x 12-15 reps
(C) Single leg walkout to curtsy squat x 5-8 reps No rest between the exercises, break for 30s at the end of the circuit and repeat for 3 rounds.
BONUS Workout Time…
There's a NEW way of doing cardio that has been proven to melt up to 9 pounds of fat in just 14 days. Now although this is "cardio", you won't need an elliptical or bike.
Accelerator 500 Do as many rounds as possible in seven minutes, resting only as necessary.
If your form gets sloppy, you must take a break.
Your goal is 2 rounds = 500 reps!
A) Squats x 50
B) Jump ropes x 50 (with the invisible jump rope)
C) Push ups x 25 D) Split shuffle x 50 (each leg)
E) Cross body mountain climbers x 25 (each side)
F) Jumping jacks x 50
And if you love that workout, you can use this bodyweight formula to get faster results. And you will NOT need to train 7 days a week… or six… or even five for that matter.
And even better, each workout will only take 20 minutes or less.
Get NEW Bodyweight Cardio 500 here <= On Sale Now
– You'll discover TONS of new bodyweight exercises.
– You'll get AMAZING results.
– Your body WILL change. Yes, you'll have to work hard. But honestly, we all know it's worth it… because it changes us for the better!
Rock on! Kate Vidulich, BSc, ACSM, Master CTT
Exercise Physiologist
Creator Bodyweight Cardio 500
PS. And don't worry, if you're a beginner, I've got you covered, too. You'll start off with non-impact exercises, burning 300 calories a workout without jumping, lunges or burpees…
(Visited 2,169 times, 1 visits today)