It happens with most of us – Emotional Eating
Does this sound familiar?
* You have a terrible, horrible, no good, very bad day…
* You figure it's going bad any ways so whats the big deal…
* At the end of it you turn to food…
But, here's the thing, there's a reason that it's called comfort food.  When you make that decision and while you're eating it you right away feel better.
—- And when you're done eating it you feel a whole lot worse.  Definitely not the outcome you were looking for or need.
Keep this in mind next time you are tempted to turn to food for comfort:
Emotional eating temporarily relieves distress and then makes it impossible to attain what you really want.
Try this yummy salad with onion rings, there's no guilt with this one!
Tropical Salad with Teriyaki Chicken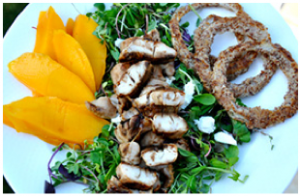 This salad is fun and full of flavor, made with nutrient-packed microgreens, sweet mango, tender teriyaki chicken and guilt-free onion rings. Eat this and give your body the protein it needs as well as a healthy serving of fiber.
Here's what you need…
* 4 organic, free-range chicken breasts
* 1/4 cup Organic ville Island Teriyaki Sauce
* 1 large yellow onion, cut into 1/2 inch slices
* 1 cup almond meal
* dash of salt
* 1/4 teaspoon garlic powder
* 1 cup coconut milk, full fat
* 1 omega-3 egg
* 4 cups organic micro greens or mixed greens
* 1 fresh, ripe organic mango, sliced
* 4 Tablespoons organic goat cheese, crumbled
1. Rinse the chicken breasts. Place in a large ziplock bag with the teriyaki sauce, mix until all the chicken is coated. Place in refrigerator for at least 30 minutes. (Do it overnight for even better flavor!)
2. Preheat oven to 400 degrees F. Lightly grease a baking sheet with coconut oil.
3. In a shallow bowl combine the almond meal, salt and garlic powder. In another shallow bowl whisk the coconut milk and egg.
4. Dip each onion ring in the milk mixture and then coat with the almond meal mixture. Place on prepared baking sheet.
5. Bake for 20 minutes. Remove from oven, flip each onion ring, then return to oven for an additional 10 minutes.
6. Heat a grill pan and lightly coat with coconut oil. Place the chicken breasts on the grill pan, and cook 4 minutes each side, until there is no longer any pink in the middle.
7. Remove chicken from heat and slice.
8. Prepare each plate with a pile of micro greens, sliced mango, goat cheese crumbles, a few onion rings and then top with teriyaki chicken.
Nutritional Analysis: One serving equals: 366 calories, 2g fat, 268mg sodium, 23g carbohydrate, 4g fiber, and 40g protein
(Visited 49 times, 1 visits today)