My all time favorite meal?  Eggs!! They are super yummy and you can make them in just about every way.  Here's a recipe to spice up your breakfast. Egg whites, fire-roasted green chile and diced tomatoes create a tasty omelet that is bursting with flavor and packed with protein.  Serve with a side of salsa and sliced avocado.
Here's what you need….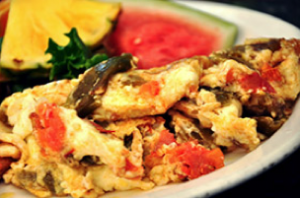 Egg White Chile Omelet
1 teaspoon olive oil
3 small tomatoes, finely chopped
2 (4oz) cans of fire-roasted, diced green chiles
12 egg whites
2 Tablespoons water
Non-stick cooking spray
1. In a skillet, heat the oil over medium heat. Add the tomatoes and chiles and cook until soft, about 3 minutes. Season with pepper and salt and set aside.
2. In a medium bowl whisk the egg whites and water. Lightly coat a medium non-stick skillet with non-stick cooking spray and place over medium heat. Add 1/4 of the eggs and swirl to evenly coat the bottom of that pan. Cook until the eggs have set, about 2 minutes.
3. Use a rubber scraper to lift the eggs up and let the runny uncooked egg flow underneath. Spoon 1/4 of the chile mixture onto half of the omelet, fold over, and slide onto a serving plate. Repeat with remaining egg whites and chile mixture.
Nutritional Analysis: One serving equals: 163 calories, 5g fat, 6g carbohydrate, 2g fiber, and 26g protein
(Visited 144 times, 1 visits today)