Just last week I was in Las Vegas hanging out with the TOP Health and Fitness pros in the industry. It's taken a few days to get all caught up and back into the swing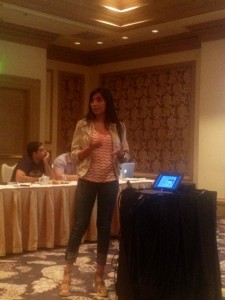 of things.  I tried to get in at least 20 minutes of sun out by the pool in between breaks in our four day long conference. It was alot of fun hanging out with all my favorite people in the industry sharing techniques.
The best part is, I had the opportunity to present in front of 48 of my peers, now picture a big room, with only 5 girls and the rest guys.  Needless to say I enjoyed it and although I had butterflies in my stomach, I was so excited to get up there and deliver a great presentation. Here's a picture of me presenting my Pilates program.
Like I mentioned it was fun and totally out of my comfort zone to get up there but loved it!  It was four days of sitting and taking intense notes, loads of great content but somewhere in the day I had to get a workout in.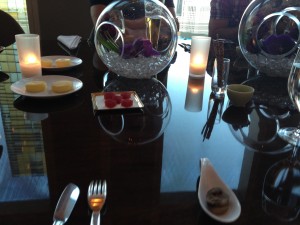 Have you experienced a time in Las Vegas when you eat a little to much and maybe have one to many cocktails?  It may be the mindset of go big or go home and the infamous statement of whatever happens in Vegas stays in Vegas.
Well, although this may be very true but I can tell you the one little thing that wont stay in Vegas are the extra calories from eating a little too much at those Buffets and late night snacking after a wild crazy night out.
While in Vegas myself and a group of my fitness pals went to a fancy French restaurant.  I'm not the fancy kinda girl, I'm good with oatmeal and tall soy latte at Starbucks, Ya, I'm pretty simple.  So this was an experience for me.  It was at a restaurant named "Twist" at the Mandarin Hotel in Vegas. If you have never visited Vegas let me fill you on a little secret.  Even though the hotels look very close to each and seem that it will take only 5 minutes to get from one to another, this is dead wrong.  You will want to triple the time it takes to get from one hotel to another especially if you are walking. After a 20 minute walk from the Bellagio to The Mandarin Hotel in 102 degree heat we made it to Twist.
The french did get something right, portion control.  Everything was in small portions as the food continued to come out and placed on the table.  There was nine of us in the group and As I mentioned before this was my first experience at a French restaurant and they kept bringing out small less than handful portions of food.
We were all given an option of three, four and six course meals.  Now I was thinking that was alot of food but the portions were small.  I stuck to only one course but this was paired with small little side dishes.  Others in our group opted for the six course meals, this was an experience to observe, with every new course that came out a a different wine was paired with it.
Fascinating!  I got a kick just watching all the food come out.  Imagine this, one hour of food poured out of the kitchen onto our table.  Right when I thought I was finished the waiter came out and brought more and explained every single dish and how it was prepared.
And the bathrooms, don't let me get started on that.  Super fancy, I couldn't figure out how to turn on the sink to wash my hands, after a few trial and errors I figured it out.  Like I said I'm a simple gal, give me good old fashioned oatmeal with protein powder and a tall iced soy latte from Starbucks and I'm a happy camper.
If you've never had an opportunity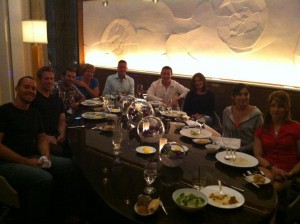 to dine at a French restaurant you have to try it.
The French did get it right with portion control, everything was brought out in small controlled portions.  With the all the nearby buffets and food feast available in every Vegas hotel it's no wonder why we over indulge in over eating and later tell ourselves it's only for the weekend and it's Vegas.
Simple healthy eating habits are practiced every day.  This is where the yo-yo of dieting comes into action.
My Pilates girls come to me with this constant struggle of eating clean and healthy and sticking to it.  It takes practice to adopt a healthy lifestyle.
Let's face it would  you prefer to pull up at a drive thru and eat something you know deep down is really bad for your health and you are filled with regret?  No one forces you to drive up to those fast food restaurants, sure it's easy and quick but why live with that regret for eating it when you're pants are fitting snug?
I know it's hard and it's a pain to eat clean, my good friend Courtney Rowsell is an expert in eating clean, I asked her for her top 5 recipes to eating clean and adopting a healthy lifestyle.  Now these aren't starvation diets.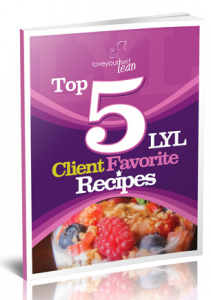 I'm not into that, the way I see it you have to enjoy what you are eating and feel good about it then it becomes second nature to grab something healthy versus a bad food choice.
Download these recipes and let me know which one is your favorite ==> Top 5 Recipes
(Visited 57 times, 1 visits today)