I'm frequently asked what I eat everyday.  I'm a big time Sushi lover!  Although this may not be a favorite for everyone I changed my eating habits years ago.  I wasn't planning on going a crazy kick of being a non-meat eater it just happened that way.  After years of extremely bad stomach pains and medical tests.  My doctors had no explanation or solution as to why I kept having bad stomach pains. So I made a change.
One day 9 years ago I decided to stop eating any red meat.  Little by little my excruciating stomach pains began to fade, then I decided to take it a step further.  I completely cut out chicken and turkey.  Now I don't recommend this to be the solution for everyone but for me, it finally stopped all the upset stomach and pain I experienced.
Again, I don't recommend you going out and cutting out red meat and chicken.  I've heard great things about the popular Paleo diets, if I was a meat eater this would be my diet of choice.
But since I'm not, I have to be creative with what I eat everyday.  Here is one of my favorite recipes I eat practically everyday:
* 1 (5oz) can Albacore Tuna, packed in water
* 3 Celery stalks, diced
* 1 Tablespoons light mayonnaise (I like to use Veganaise instead of mayo)
* 2 Teaspoons mustard
* 2 Teaspoons dried dill weed
* Dash of freshly ground pepper
* Dash of cayenne pepper
* 1/2 cup purple cabbage, shredded
* 4-6 butterhead lettuce leaves, washed
1. In a medium bowl, flake the drained tuna with fork. Add celery, relish, mayo, mustard, dill and pepper. Mix Well
2. Place lettuce leaves on plates, evenly divide cabbage on the leaves and then fill with tuna mixture.
Enjoy!
Need more recipe ideas? Get my 7 Days of Clean Eating Meal recipes, click here.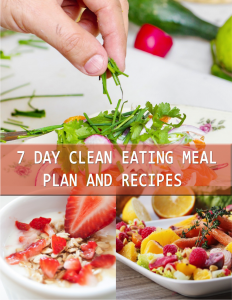 (Visited 72 times, 1 visits today)