Wouldn't you agree that one of the key areas of the body that is important to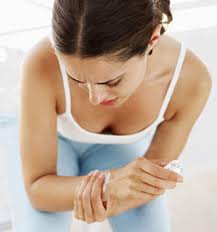 your success is your wrists?
After all, they are involved in just about everything we do, weight train,
push-ups and some Pilates moves.
If your wrists feel great, then you will be pushing and pulling in your
workouts with ease. But if your wrists are sore all the time, it can hold
you back from progressing in your workout.
Here are 3 ways to help you prevent the nagging wrist pain:
1.) Keep Your Wrists Straight Whenever Possible
On most pulling and pushing movements the wrist will perform and feel
better when your wrist is straight. Avoid any kind of lateral angling of the
wrists when holding a dumbbell, bearing your body weight or while
doing push-ups.
2.) Avoid Getting Locked Up
Sometimes when you train with machines, they "lock you" into a plane of
motion, dictating how your body can move. This can be very hard on your
wrists, especially if your body does not fit the mold the manufacturer had
in mind when designing the equipment.
Instead of getting "locked into" a movement pattern, opt for exercises
that allows your body to move how it wants.
3.) Keep Your Wrists and Forearms Limber
If the forearm muscles or fascia (thin tissue surrounding all muscles)
become tight, they can keep the forearm and wrist from moving properly.
The best way to keep your wrists and forearms limber is stretching.
Stretching may seem tedious, but it can actually help in the future in
preventing achy joints and wrist injuries.

If you are challenged by wrist pain every time you train, then you may need to give your wrists a little more loving care.
21-Day Pilates Flexibility & Mobility Guide 
 is an ebook that is packed with methods for keeping the wrists in good shape, preventing injury and pain from setting in, and correcting situations you might already be experiencing.
For more effective stretches and movements to care for your wrist head over

HERE

and finally get rid of the nagging wrist pain.
(Visited 142 times, 1 visits today)