Not to long ago I injuried my shoulder, besides the other injuries I have, I would have to say my shoulder injury has been and still it the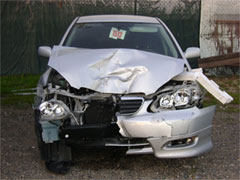 worst of them all.
It was back in January 2009 when I came just shy of a few inches of what could have been a fatal accident. The beginning of a new year and I was ready to start my day as I made my way down the freeway to Orange County to my Pilates studio. The weather was great not to cold and was excited to see my Pilates girls.
The freeway I frequented to get out of Chino Hills and into Orange county at that time was a two lane freeway with hills on boths sides. On one side huge semi trucks made their daily pick up and drop off, since it was all dirt hills I would imagine they were hauling away dirt and equipment.
Minding my own business, I drove south down the 71 freeway and noticed there wasn't to many cars on the highway.  As I began to get closer to the interchange I noticed a few semi trucks coming in the opposite direction. These trucks had to yield to the oncoming cars going south to be able to make a left turn up to the hills.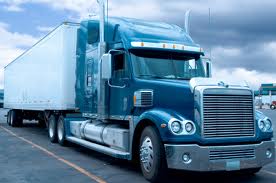 Then it happened!
I was getting closer to this particuler turn for the trucks when one distinct truck decided he would try to beat the other cars.  One of those cars being me. He began to make a left turn and I tried to slow to down.  Now, he made a left turn directly in front of me, I had no where to go. I don't think he realized just how long the bed of this truck was.
I was going 61 mph slammed on my breaks as hard as I could, heard the tires screatching and smelled the burning rubber from the pavement. I didn't stop in time.  My car slammed into the 3rd set of tires of the truck.  At that moment I remember everything went quiet, I thought "Oh Man" am I dead? My ears starting ringing and I couldn't breath.
My seat belt locked so firmly into place and held me back from going right through the wind shield.
The shock of sitting in my car lastly for what seemed hours. Next all I saw was the semi truck move out of the way while I was still sitting in my car.  I couldn't move, my arms, shoulders and face were stinging from the powder that was in the air bags.
My Toyota Corolla was completely totaled. I was in the middle of the freeway and couldn't move the car because it was completely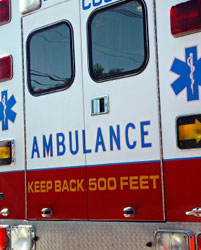 wrecked. Still sitting in shock in the car I remember the driver from the truck coming and yelling at me, didn't offer to help or see if I was ok.  Another driver behind who saw the whole thing came up to my window asked if I was ok, he had called the paramedics and fire department for me and said he say everything, the truck turned in front of me and blocked my entire path.  All the cars behind had time to stop, thankfully they did.
Had it of been just a few seconds later my car would have gone under the truck bed and chopped of whole top portion of my car and who knows if I would still be here today. Sitting motionless, my body was numb and tingled all over.  I couldn't tell if something was broken, I did feel my left shoulder in an extreme amount of pain.  I though for sure I had fractured it and or dislocated it.
Once the fire department and paramedics should up they tore the car door open and removed me from the car. They put me on a strecther with a neck brace and headed straight to the ER.  All I could think about was my son and the feeling I wouldn't be able to be active with him again.
After their MRI's, X-rays and test, I luckily didn't break anything.  My ribs were bruised, whiplash from the impact and severe muscle tissue damage on my left shoulder, down the left side of my back and arm, burns on my arms, neck, and face from the powder of the air bags.  Bruises covered my torso from the seat belt.  The doctor advised I would be in pain for quite sometime since my injuries were deep internal muscles tissue damage.
The doctor prescribed pain medication, muscle relaxers, etc.  I don't like taking medication at all, Im against pain medication at all costs.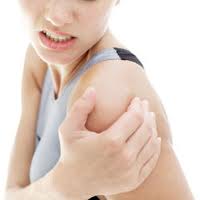 After time the bruises went away and my body started to heal, my continued Pilates routine helped me to regain the mobility I once had.  However, my left shoulder continued to hurt.  The pain was so severe, it radiated down my arm to my fingers tips, I felt as though I was having a heart attack because it went numb and tingled.
I turned to my friend Rick Kaselj, he is my Go-To-Guy when it comes to sever injuries.  What I love about Rick is he takes the nonsense out of the real stuff that works.  He has helped me and continues to help me with my shoulder injury.  This injury will stay with me for the rest of my life. Rick's SR3 method has helped me to go from a painful shoulder joint to a pain free shoulder.
I continue to use Rick's method to keep my shoulder healthy and mobile.  The shoulder is the most fragile joint in the body and the easiest to injure.  His methods continues to help me and tons of people with shoulder injuries.  He put together his entire shoulder injury program into a well rounded program.
I highly recommend Rick's shoulder program! Should you suffer from a shoulder injury or know of anyone, don't waste anymore time with feeling that pain and get a copy of Rick's Shoulder Pain program.
I'm thankful I was able to come out of that accident with the injuries I did, it could have been worse.  I'll take the injuries I suffered and will continue to work on over what could have been a fatal outcome.
(Visited 182 times, 1 visits today)