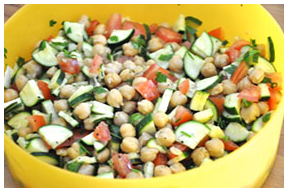 Bored with your salads for lunch?
I would agree a chicken salad or a salad with a nice grilled piece of fish on it can get a little boring.
So here is a Chickpea salad that's filled with protein, fiber and nutritious veggies.

And…the best part it only take 10 minutes to prepare.
Here is what you will need:
1 (15oz) can chickpeas
1 zucchini
2 tomatoes
for the dressing:
2 tablespoons parsley, minced
1 teaspoon olive oil
2 tablespoon lime juice
1 tablespoon agave nectar
1. Drain the chickpeas, but do not rinse. Place in a medium
bowl.
2. Slice the zucchini lengthwise, rotate and slice lengthwise
again to form 4 long pieces. Chop into small slices and add to
the bowl.
3. Cut the tomato into 4 pieces. Scoop out the seeds and discard.
Chop into small pieces and add to the bowl.
4. In a small bowl combine the dressing ingredients. Pour over
the chickpea mixture and mix well.
Enjoy!
(Visited 55 times, 1 visits today)