Last night I flew into Calgary, Canada to visit with my BFF Shawna "The Pull-Up Queen" My first trip ever to Calgary, Canada.
I got a couple of looks when I was at the airport in Orange County wearing UGGS in hot weather, but I hurried over to the gate where my flight was leaving so I can blend in but still I think I looked funny with my heavy jacket. Shawna reassured me she would have enough blankets to pile on me at the airport.
Now, I'm a Southern California girl and I had to pull out my uggs, sweaters. Which by the way Shawna chuckled when she saw how light weight they are. What do I know. I'm accustomed to wearing flip flops, shorts and a tank top in 100 degree weather.
Here is our Thursday evening at Shawna's house, I want to make sure I get your questions answered before I head out to explore Calgary!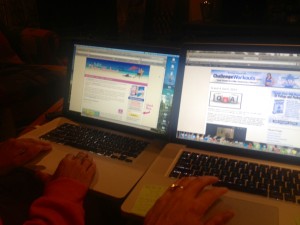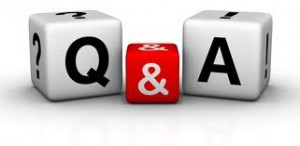 Our First Question:
Michelle asked for a workout she can do at home to tone her arms. It's no fun to have jiggly arms, my son likes to poke fun at me and check my arms and say let me see are they squishy. Gotta love kids.
No Arm Jiggles!
Try this move to tone your shoulders, all you will need is a stretch band to add a little resistance ==>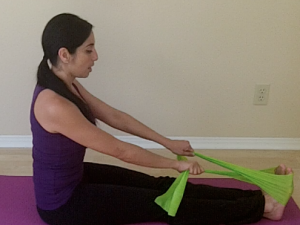 -Sit straight up with your legs together (if you have challenges with keeping your legs straight bend the knees slightly
-Place the band behind the feet, cross the band and hold each side
-Draw your ribs down and keep your shoulder blades drawn down your back
-Hold the band with the palms faced down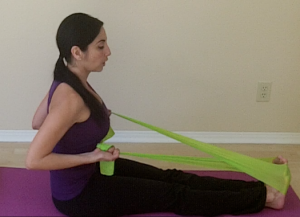 -Exhale rotate your palms up pull your elbows back behind you
-Stay sitting up straight with your ribs drawn down and squeeze between your shoulder blades
-Squeeze your inner thighs together
-Extend arms straight ahead and pull your elbows back again
-Repeat movement
-Do 15 reps, 3 sets (rest 15 seconds between sets)
 Try this move to tone your triceps, all you will need is a stretch band to add a little resistance ==>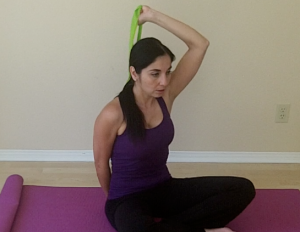 -Sit up straight cross your legs
-Grab one side of a stretch band and place it behind your back, when you hold the band make sure to place the back of your palm against your back
-With the opposite hand grab the other end of the band
-Keep your arm as close as you can to your ear
-Do not let your elbow drop
-Extend the band straight up over your head
-Extend all the way through your hand, extend your wrist straight up
-As you are going through the movement keep your belly pulled in
-Do 15 reps, 3 sets (rest 15 seconds between sets)
Our Second Question:
I received an email from Karen asking what is the best exercise to stretch the hips, now with tight hip-flexors we can say a tight low back is one of the culprits.
Here are two moves you can try at home.
To release low back pain and release pressure off the hips ==>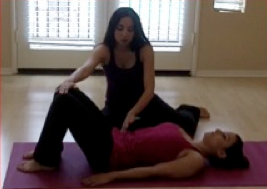 -Lay on your back with your feet hip width apart
-Keep your shoulders press firmly on the floor
-Draw your ribs down towards the floor
-Pull your belly button in towards your spine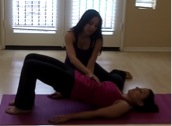 -Keep your ribs drawn in
-Exhale roll your back off the floor
-Make sure to start peeling your tailbone and low back off the floor first
-Pull your belly button in and engage the pelvic floor
-Inhale hold at the top and exhale roll back down, take your time to place each vertebrae
back down on the floor
For a Hip Flexor Stretch try this ==>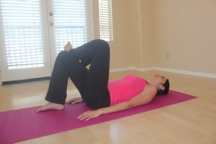 – Lying on your back, pull both knees into your chest
– Cross you right leg over your left leg.
– Placing your left ankle directly below your right knee.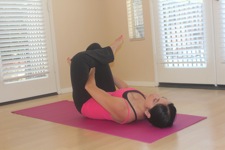 – Place your right hand behind your right thigh and your left arm through your legs
– Interlace your hands behind your right thigh.
– Keep pelvis in neutral position and drawing your belly button in towards your spine
– As you push your elbow down against your left thigh pull your hands towards you
– Hold for 20 seconds, make sure to breath
– Switch legs
– Repeat the movement three times each side
(Visited 119 times, 1 visits today)