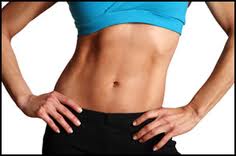 You might be thinking what is a Progressive 100 Ab Burn?  It's a Pilates Ab move that's pretty much a love it but it hate kinda of exercise.
It's progressive for the shear fact it gets harder and harder.  You add more reps as you continue through the move.  But here's the great part of the move, DON'T STOP!
Well, that may be a bit harsh but the goal here is not to stop.  If you've been reading my recent posts you've heard me say to keep you abdominals working at all times and draw the ribs in.  Yes, you can call me crazy but you actually do pull the ribs in while practicing Pilates.
Let me explain just a bit further…
What you are trying to achieve is preventing the ribs to thrust forward. What we are focused on is  on targeting the intercostal muscles, these are a group of muscles than run through the ribs and are responsible for the expansion and contraction of the chest when you breath.
With continued practice the idea of pulling your ribs in wont be odd.  You'll soon notice a difference in how your midsection looks, a tapered smaller waistline. And you will feel as if your abs are tighter from the front all the around towards the back of the body. Your posture will begin to improve, you'll notice yourself stand up taller because you are tightening the deep core muscles.
As you are doing the Progressive 100 you must keep your stomach in and belly button pulled in towards the spine.  This is will help you to continue the move and feel the deep abdominal burn.
In the video below I present the Progressive 100 Ab move with the help of my friend Justin.

Here is a quick summary of the move above, "Progressive 100's"
**When going through each move, keep your belly button pulled in towards your spine.
**Do not thrust your ribs forward.
**Control your breath, so you are pulling your ribs in towards each and breathing to the side and back of the body.
**Begin on your back, keeping the head inline to the spine at all times.
**Arms extended straight up towards the ceiling.
**Exhale as you lift your head, neck shoulders as one unit leading with the chest.
**Extend both legs out at a 45 degree angle, open and close the legs one time.
**Inhale move back to starting positing.
**Exhale, bring the arms down the side as the legs extend out in front at 45 degree angle, open and close the legs two times.
**Continue to the movement and add 1 rep each time you extend the legs out.
**At the end you will have completed well over 10 open and closes of the legs.
Add this move into your daily workout as part of your full body moves =))

For more fun and effective Pilates workouts, head over too…

(Visited 77 times, 1 visits today)