Pivot Prone - Back Extension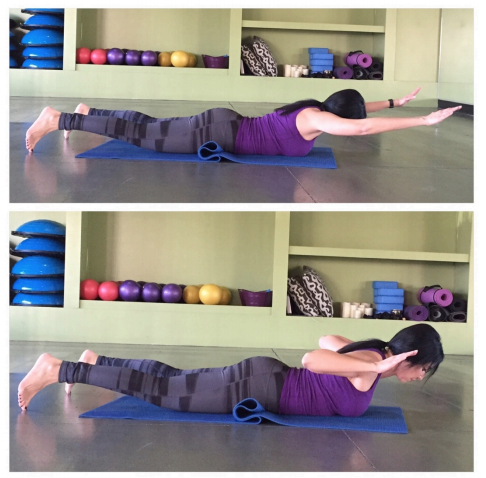 Today's Pilates Mobility is targeted to open up your mid to upper back.  This back extension is perfect to do on a daily basis!
Do 10 repetitions, 3 to 4 rounds, rest 20 seconds.
Begin by positioning yourself on the floor, stomach down on the floor or on a mat.
Legs extended straight out behind you, toes pressed down to the floor.
Extend both arms straight out overhead.
Maintain proper spine alignment by keeping your head in line to your spring. Eyes down to the floor.
Press hips into the floor to lengthen the back and squeeze the glutes.
Exhale, extend arms out overhead.
Inhale, bend elbows back towards the small of your back and hands by your ear.
Make sure to keep the deep transverse abdominals engaged to avoid pressure in your low back.
Let me know if you tried it and how you enjoyed it! Leave me a comment below…
(Visited 307 times, 1 visits today)