It's important to take a few minutes to treat your body right with some active recovery and R&R…right?
Lately, I've been doing this stretch during the week on the days where I'm sitting too long in front of my laptop, it helps to relieve tight hamstrings and hips is this stretch…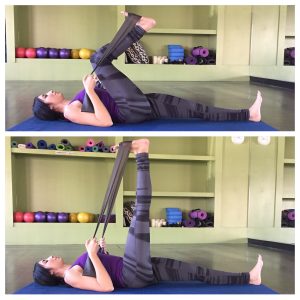 I use the thera-band or a stretch band. Start on the floor, extend the left leg straight out on the floor. Right knee is bent, place band behind foot. Press the heel up to the sky and bend the knee back in.
Keep elbows down on the floor. Bend and extend the leg up to the sky for a series of 10-12 presses. Repeat on the other side.
Your body will love you for it! Your back will loosen up and your hips will have more mobility.
Want the next 7 Days of Flat Tummy workouts? Click
HERE
to get instant access.