Have you been able to get into the swing of things after the holiday weekend?
I want to share a yummy snack I made last night, it's a great go-to snack. Jonah likes the spicy taste and he took Ziploc full to school today.
What I like about this snack is the crunch! When you decide to eat healthy and clean the once crunchy snacks like chips are no longer on the menu. I know, I know…but by avoiding them you'll see the results from all your healthy eating.
Most snacks with a satisfying crunch are packaged, processed, made with refined grains and filled with additives that contribute to weight gain. And so =(
So, this yummy snack is irresistible, crunchy and savory Oven Roasted Spicy Chickpea Poppers! A handful of these poopers will give you the snacking crunch that you crave while delivering grain-free fiber and protein.
They are easy to make too – rinse the chickpeas, coat with olive oil, season them then put them in the oven.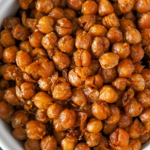 Here's what you need…
* 1 Can chickpeas, drained and rinsed
* 1 Tablespoon olive oil
* Sea salt
* Chili powder
* Garlic powder
* Onion powder
* Black pepper
Preheat the oven to 450 degrees F. Line a rimmed baking sheet with parchment paper.
Drain and rinse the chickpeas. Pat dry – the drier the chickpeas the crunchier the poppers will turn out.
In a bowl combine the chickpeas with the olive oil and generous amounts of the seasonings. Taste a chickpea to gauge the strength of the flavor and adjust as needed. Spread the coated chickpeas over the prepared pan and roast for 25 minutes, or until golden and crunchy. Enjoy by the handful!
They are super Yummy!!
(Visited 86 times, 1 visits today)