Cooking a healthy dinner at home doesn't have to be complicated or take lots of time. This simple recipe for chicken, shallots and fresh dill will only take you about 45 minutes from start to finish. Meals that are rich in protein, fiber and low in carbs, like this one will help you staying lean and healthy.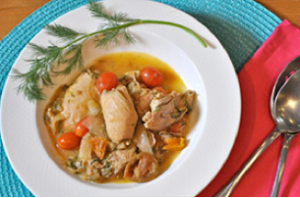 Here's what you need:
1/3 cup coconut flour
3 lbs boneless, skinless chicken thighs
sea salt and black pepper
2 Tablespoons olive oil
20 shallots, peeled and halved
4 garlic cloves, minced
1 cup sparkling, white wine
3 Tablespoons Dijon mustard
1 cup organic chicken broth
23 cups cherry tomatoes, halved
1/2 cup fresh dill, chopped
1. Place the flour in a shallow bowl. Rinse the chicken and pat dry. Season both sides of the chicken thighs with salt and pepper. Dredge through the coconut flour.
2. In a heavy Dutch oven, heat the olive oil over medium high. Add the chicken and cook until browned, about 4 minutes per side.
3. Add the shallots and garlic, cook until softened, about 5 minutes. Add the wine, mustard and chicken broth.  Reduce the heat to a simmer, cover and cook for 30 minutes.
4. Add the tomatoes and fresh dill. Season with a little more salt and pepper. Cook over high for 5 minutes. Serve warm
Nutritional Analysis: 283 calories, 11g fat, 242mg sodium, 8g carbohydrate, 2.5g fiber, and 35g protein
Want to See a Flatter Tummy?  Why not try the 7-Day Flat Tummy Challenge!  It's absolutely FREE!

(Visited 132 times, 1 visits today)