Italian food use to be one of my very favorite foods.  I so loved the pasta and the heavy sauces that came along with it.  But after a while it's not very fun when your waistline starts to expand from the carbs.
I have a yummy Low-Carb Roasted Asparagus Pasta for you to try. You'll need a spiral slicer for this recipe in order to create long, noodle strands out of zucchini. If you don't already have a spiral slicer, it's a great tool that makes low-carb noodles quickly and easily. The additions of roasted asparagus to this pasta is Yummy!
Low-Carb Roasted Asparagus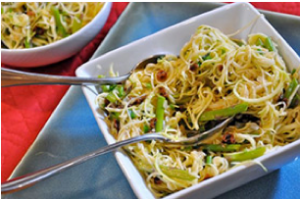 Here's what you need:
1 bunch, organic asparagus
2 teaspoon olive oil
dash of sea salt and pepper
5 organic zucchini
2 Tablespoons sun dried tomatoes, chopped
For the dressing:
1 garlic clove, chopped
2 Tablespoons yellow onion, chopped
1 Tablespoon Dijon mustard
1 Tablespoon lemon juice
1/4 teaspoon sweet paprika
2 Tablespoons olive oil
1/4 cup fresh chives, thinly sliced
1. Preheat the oven to 425 degrees.
2. Trim the ends off the asparagus, and chop into 1/2 inch pieces. Place in a medium bowl and combine with the olive oil and a dash of salt and pepper. Transfer to a baking sheet and bake for 10 minutes.
3. Trim the ends from the zucchini and use a veggie peeler to remove the green skin. Cut the zucchini in half, width-wise, then run through a spiral slicer to create long, angel hair noodles. Place the noodles in a large bowl. Add the sun dried tomatoes and roasted asparagus.
4. In a small bowl combine all of the dressing ingredients. Pour the dressing over the noodle salad and mix well to combine.
Nutritional Analysis: One serving equals: 134 calories, 8g fat, 10mg sodium, 10g carbohydrate, 5g fiber, and 5g protein
What did you think? Leave me a comment, okay?
(Visited 121 times, 1 visits today)