I must admit I do have a bit of a sweet tooth.  With the urge of having something sweet also comes with the waistline growing just a bit if you over indulge in too many sweets.
Luckily this recipe calls for coconut flour an alternative to wheat flour that is lower in carbs and free of gluten.  It's a great breakfast snack or mid day snack…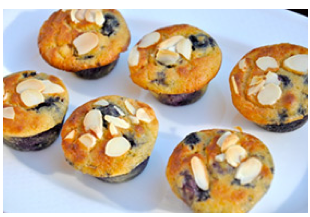 Here's what you will need:
*6 eggs
*1/2 cup coconut oil, melted over low heat
*1 teaspoon vanilla extract
*1/4 teaspoon almond extract
*1/4 cup grade B maple syrup
*1 lemon, zest and juice
*1/2 cup coconut flour
*1/2 teaspoon salt
*1/4 teaspoon baking soda
*1 cup organic, fresh blueberries
*1/4 cup sliced almonds
Directions:
1. Preheat oven to 350 degrees F. Grease a mini muffin pan with coconut oil.
2. In a medium bowl combine the eggs, melted (and cooled) coconut oil, vanilla and almond extract, maple syrup, lemon juice and zest.
3. In a small bowl, whisk the coconut flour to remove lumps, add salt and baking soda.
4. Mix the dry ingredients into the wet ones, then gently fold in the blueberries.
5. Fill each mini muffin tin to the top, then sprinkle with sliced almonds.
6. Bake for 30 minutes, then turn on the broil for 1-2 minutes (watch close!) to lightly brown the tops.
7. Allow to cool before removing from muffin tin. Store in an airtight container in the fridge for up to a week.
Nutritional Analysis: 84 calories, 5g fat, 55mg sodium, 4g carbohydrate, 1g fiber, and 2g protein
Need more recipe ideas? Get my 7 Days of Clean Eating Meal recipes, click here.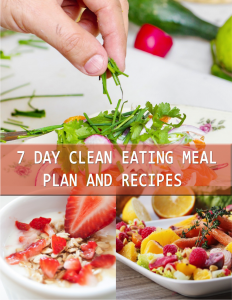 (Visited 85 times, 1 visits today)