Pizza Pizza!! Yes! This is an all time favorite of so many.  I took a poll yesterday and 70% picked Pizza over nachos. 
My favorite is Nachos 😋 
But Pizza is right there as one of those Yummy treats!
That's why I created this recipe for all of my pizza lovers out there!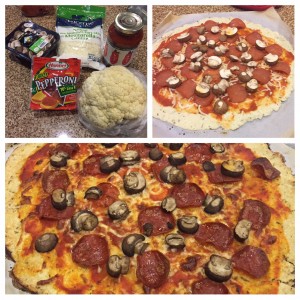 Ingredients:
1 head of Cauliflower
1 bag of Turkey Bacon Slices
1 container of Mushroom Slices
1 cup low-skim Mozzarella cheese
1 teaspoon dried Oregano
1 teaspoon dried Parsley
1/4 teaspoon sea salt
1/2 black pepper
1/2 cup marinara sauce
1 garlic clove chopped
2 eggs beaten
Directions:
Add cauliflower to food processor, pulse until finely minced.

Put cauliflower in microwave for 5 minutes.

Add dry ingredients and cheese to cauliflower and mix well, should look a little doughy.

Place parchment paper on pan, press cauliflower mix in a circle.

Put in oven at 450 degrees for 5 minutes.

Remove pizza from oven, top with 1/2 cup marinara sauce, 1/2 cup mozzarella cheese, turkey pepperoni and mushrooms.

Put pizza back in the oven for 20 minutes.
You can add any toppings like veggies…chicken…steak!
(Visited 141 times, 1 visits today)