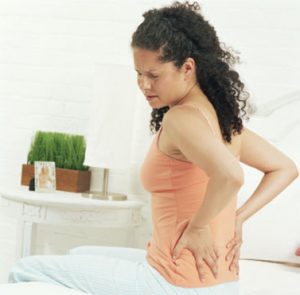 One of the most dreaded feelings is waking up in the morning with low back pain.  That irritating feeling when you roll over to sit up and you find yourself having to push yourself up to get out of bed.
As time passes we lose the flexibility we once had as youngsters.  Now a days instead of being active all day long we spend most of our time in front of a computer, commuting or being sedentary the majority of the day.
There are many factors that go into why and where low back comes from. If you think about how long you've been having low back pain you need to give yourself time to work it out.
What I mean is you don't have to live with back pain your whole life.  A good handful of my clients come to me because of low back pain.
In the beginning they are skeptical whether Pilates will really help them.  One of the common habits I found with my clients with sever low back pain is, they protected their back for so long that they were really nervous about letting go and allowing the body to open up and do the Pilates exercise I'd ask of them.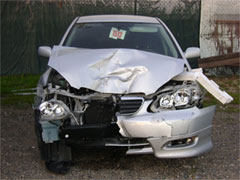 Sure there are debates if Pilates does or doesn't work for low back pain relief but I'll be the first (besides my clients) to say it does work.
This is one of the many reasons why I have to do Pilates.
I have experienced plenty of injuries, from car accidents, to slipped discs, shoulder injury to knee problems.  Pilates keeps my body in alignment and helps me to keep equal muscle balance to prevent any unneeded strain on my joints and body.
One of the most painful is, low back pain…I really hate it and it pains me to see when a new clients comes to see me and their low back is in pain and they is absolutely zero flexion in the lumbar spine.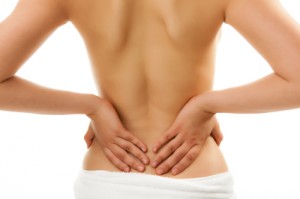 With Pilates, the movements force deep abdominal engagement and helps to release undo pressure from the low back.
Besides strengthen the core, flexibility also needs to be addressed with relieving low back pain.
Even if you don't practice Pilates and are committed to a different fitness routine you will want to add in this Pilates moves that will help to release low back pain and finally feel like you can move again.
Try this move to help you release the tightness in the back and gain movement in your body and prevent further back pain.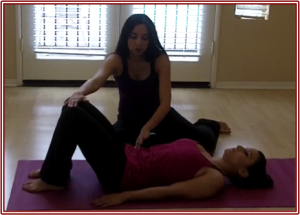 Lay supine on your back
Press your shoulders into the floor
Palms face down, press the heel of the palm firmly into the floor
Knees and feet hip width apart (this is about the width of your fist, place your fist between your knees for measurement)
Draw your belly button into your back
Keep your rib cage from thrusting forward, you want to draw your ribs down towards your waistline
Begin to roll off your low back by scooping out your belly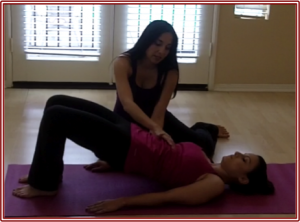 As you draw your belly button in a roll through your low back, lengthen the hip flexors by reaching your knees towards the wall
Keep your rib cage from thrusting out
Keep your belly drawn in, preventing your low back to dip down
Keep your pelvic floor engaged
You should feel as if you are wearing a belt around your waist
If you feel discomfort in your low back with attempting this move.  Keep your pelvis on the floor do not come up. You will want to roll throw your low back first.  Keep practicing and do this everyday and you will start to feel relief in your back and improve mobility.


What did you think? Share, Like and Comment Below?
Want me to be your Private Coach? CLICK HERE TO LEARN MORE
(Visited 580 times, 1 visits today)