I've been going on a rant lately with all the soda pop that is consumed everyday. We can clearly see how much sugar are in these drinks but sometimes it's just a bad habit to kick. I totally understand that.
But, as I said it is merely a habit. Any habit can be broken, that is if you stick to it for the next 21 days. Of course some are harder to kick than others but the bottom line is you can kick a bad habit but you have to commit to it.
How bad do you want to kick a bad habit?
Let's take the soda pop habit. Last week Jill, one of our Pilates girls sent me a picture of the recipe I sent out last week, her sister in Seattle made the recipe first…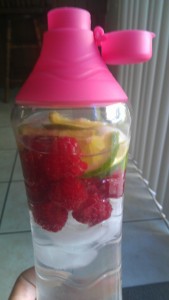 check it out…
When Jill came into the studio she brought in a tall water bottle, inside she had put together one of the recipes I sent out last week.
A refreshing Spa water recipe, it's one of the many recipes to spice up water and help with kicking the soda pop graving. Now don't get me wrong it's going to take time to kick the urge to drink the soda.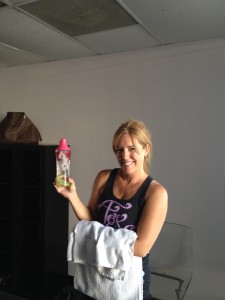 In case you missed the recipe here it is:
Raspberry Lime: Slice a lime into a large pitcher of water, add a handful of raspberries. Add ice, allow to chill for 1 hour before serving.
Here is a little tip to start helping you kick the habit… DON'T BUY IT! PERIOD
If you aren't buying it then you are not tempting to drink it. And let's not say, oh but my kids like it. My son is pretty active and runs circles around me, there is no way I'd want to give him more sugar. He would be bouncing off the walls.
I don't know about you but if I take a drink of soda I feel full and dehydrated. Water is much better for us for more than the mere fact our body is made up of 80% water. The more hydrated you are the healthier and younger your skin looks. Now wouldn't want that.
I had a question come up from one of Pilates gal who mentioned she needs the soda as a pick me up in the middle of the day. As a busy mom with a small baby she barely has the time or energy so by drinking soda, the caffeine helps her with that.
Although it's a habit it can be changed, and what if I told you by being active and taking a little ME time, will increase your energy level and the urge to grab a soda for the caffeine boost will diminish.
Now a days we are extremely busy with work, life, and kids. There's no room for down time. But let me break this down for you.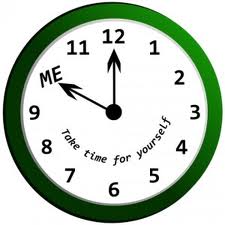 Exercising once a day helps to increase your energy level.
You sleep better, feel better, and have more energy throughout the day. By exercising once day that's 4% of you're your entire day to be healthy and sustain more energy.
If you have 10 to 15 minutes a day to sit on your bootie and be on Facebook, Pintrest or Instagram then what's stopping you?
Focus on making the change from soda to something healthier, the spa water is one alternative. There are a variety of teas also that will help, Green Tea for example is a great alternative.
To help increase your energy give yourself 10 to 15 minutes a day to move. As a mom the feeling taken that ME time seems selfish. But it's OK..
If you don't want to give yourself permission, then allow me!
You Go Girl…get some ME time in and feel great about yourself. Having a few minutes to yourself a day I can assure you, your energy level will skyrocket!
Let me give you a kick start….Try this Pilates exercise right now: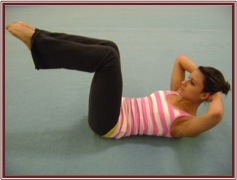 *Lay flat on your back with your knees bent
*Interlace your hands behind your head as if to create a canopy shape that holds the weight of your head.
* Inhale bring one leg to tabletop then the other. Keeps both knees squeezing together.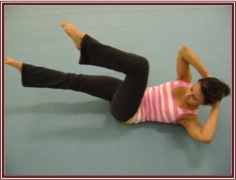 *Draw the ribs down and towards each other
*Exhale lift your chest up towards your thighs (your head, neck, shoulders come up as one unit, initiating the move from your chest)
*Do 10 to 15 reps, 3 sets, rest 10 seconds between each set
Make sure to let me know how you did with this quick Pilates exercises, and if you haven't already make sure to go to the top right hand corner of this page and enter your email to get more Pilates workouts and notifications of the most current Pilates workouts, tips and healthy recipes.
(Visited 97 times, 1 visits today)