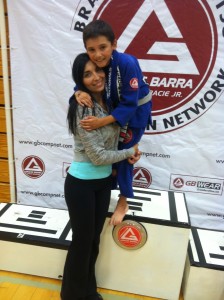 Achieving your goal, sounds pretty simple, right?
Yes, it can be as long as you have a game plan in
mind and know what your specific goal is.
Over the weekend my son competed in a Jiujitsu
Tournament, he has been training for close to 
two years now.
This was his third tournament and every one before
this Saturday he didn't place.
The week prior to Saturday we were talking about 
the tournament and I asked him what does he want
to accomplish?
He looked at me and confidently said, I'm going to 
win my division, score high in each match and isn't 
going to walk away empty handed and can see it 
when he closes his eyes.
Sure enough, he did just that.  Watching him compete
in each match with the confidence that I admired and
proud of. He took 1st place in his division and each match
scored 8 to 12 points higher than his opponent.
His eyes swelled up with tears when he knew he had
won and said "Wow, I did it"!
He set no boundaries or limitations to what he wanted to
accomplish, for many adults we set limits as to why we
can't or won't achieve something.
We want our children to achieve their goal, so now why
wouldn't we place the same expectations on ourselves?
My son had a goal in mind and he went for it, he had a 
plan.
Below are some tips to setting a basic plan to achieve
your fitness goal ==>
1. Set your goal

You want to be in better shape, but that's vague, go deeper.
How many inches do you want to lose?
What dress size
do you want to fit in?
2. Define your timeline

Be definite on when you want to drop those 5 to 10 pounds.
Say something like…Drop 10 pounds by Christmas Day.
3. Name your prize

Specify something that you would like for reaching the goal.
A new dress to wear on Christmas Day.
4. Picture It
See yourself fitting into a sexy black dress or an outfit you've
wanted to buy for yourself when losing the weight or firming
 your body.
My son continues to teach me little life lessons everyday and
I share them along to you.  I know the challenges we face
everyday with life, kids, work.
But don't lose sight of what your end goal is!
(Visited 48 times, 1 visits today)