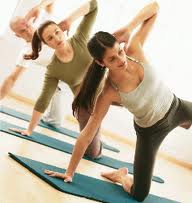 What makes Pilates a Pilates move?  It's all about proper placement and muscle control. That's exactly why Pilates is super effective in increasing muscle strength, endurance and the development of functional muscle.
However, one challenge I do see when a newbie jumps in and starts a Pilates routine is staying out of the back and engaging the abdominal muscles correctly.
One key point to remember when doing any Pilates movements is hip and pelvis placement. We necessarily do not think of any of that when holding a plank. I've seen it held incorrectly with the low back arching, butt up high in the air, sunken shoulders and head titled up. Recipe for low back pain and neck pain. OUCH!
Pilates takes the place of improper form and instead requires the body to move in alignment to the body without adding stress to joints and muscles.
Where to start?
* One of the best Pilates exercise to begin with is the Ab Lift, this will help you to focus mainly on the core and less on the back.
* Placement of the head must stay in alignment with the spine, for example when holding in a plank position don't look up, instead keep your eyes down facing the floor, The goal is to keep the head in line to the spine, which reduces neck and shoulder pain.
* Make sure your shoulder are open and lats, serratus are engaged while performing your Pilates exercises, whether it's a plank or an ab lift. I've seen instances where the shoulders are hiked way up to the ears. No bueno! Keep them down and away from your ears.
* Avoid the temptation of yanking behind your neck and thrusting your hips forward into ball and forcing the hip flexors to work when they don't have to, keep your pelvis and hips still when executing a move.
* Lengthen the low back by positioning the hips, pelvis and pubic bone correctly.
I have shared this video in a previous post but I'm sharing it again to help you really dial in on your body placement of each move. In the video below is a demonstration of proper hip and pelvis placement to effectively get more out of your workout and to quickly see a difference in your midsection.
If you feel any discomfort in the low back, modify the move by pulling your knees past the line of your hip in towards your chest. Or if you are doing a plank, bend your knees down to the floor. (but make sure to not stick your butt up in the air, keep your hip bone, shoulder and knee in a diagonal line when doing the plank on your knees)
Don't show off and straighten your legs when you know your core isn't strong enough yet and you are still working on the correct placement of the hips/pelvis. It will only set you back and your low back will hurt.
(Visited 277 times, 1 visits today)