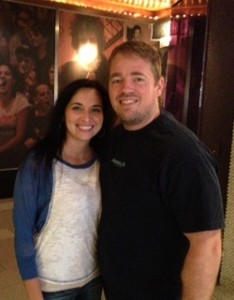 The fat loss battle!  An ongoing challenge in everyday live for many and especially difficult if you're work requires you to be sedentary most of the day.
Good news my buddy Ben, (desk jockey) has been on a fat loss journey, Metabolic Mayhem.
I'm super excited watching his progress each week and his NEW breakthrough program on how he went from being overweight and sedentary to dropping 1/3 pound of fat a day!
Check out Ben's before image when he began his fat loss journey and where is
at NOW and still going STRONG >>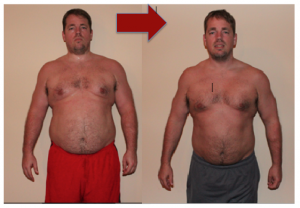 Rather than attempt to explain this Golden rule, Here's a great article from my buddy Ben telling us how to keep it simple!
Golden Rule of Fat Loss: Keep It Simple
by Ben Teal
Short but intense fat blasting, workouts (did I mention short?) started me on my way to success.  As the weight began to come off I found myself feeling more and more confident in my ability to not embarrass my wife when I sat beside her on the beach.
[I'm sure that she wasn't actually embarrassed, but I felt like she was. And that just drove my own insecurity.]
Keeping it simple gave me the confidence to get started and led to a very clear picture of what I needed to stay motivated.
Small Steps Equal Big Successes
Big blocks of time dedicated to complicated workouts and strange meal plans don't fit my crazy two kids, two dogs and a 60-hours-a-week desk job life style. Some days I don't even have time to shower…ew, I know. (I jest. I shower every day. Sometimes twice.)
I found a simple way to approach fat loss:
1. Make decisions that take me close to my goals.
2. Repeat as often as possible.
This does not have to be a complicated process.
However, there is a whole cottage industry that thrives on making it as complicated as possible. Just the other day I was scanning the top selling weight loss books. In the top 10 alone there were books preaching the virtues of paleo, vegetarian, gluten free, carb free and fat free. TV doctors are ranting and raving about a new miracle pill.
I've read recently that I should ditch slow cardio because it literally might kill me (if I run 30 miles per week or am a serial marathoner – they leave that part out), and that I might even consider dropping interval training. Maybe I should be working out in the fat burning zone. Or maybe just do circuit training.
It's no wonder the typical result is zero. We're spending so much time an energy trying to prove everyone else wrong that no one is creating a simple, step-by-step solution.
We'd rather identify problems. There's no money in solutions.
I've been there. Diet hopping. Mixing and matching workouts and suspending myself from various pieces of equipment.
It had to stop. I didn't have time to worry about all of the reason's the fast food, soda and government industrial complexes were conspiring to keep me fat.
And neither do you.
You don't have time to spend an hour in the gym, and you certainly don't have months (or years) trying to cobble together a plan from all of the confusing and conflicting information out there.
Competence Creates Confidence
When my good friend recently told me (in front of my peers, no less) that I needed to get back in shape, I was initially embarrassed. I wanted to crawl into a hole and hide.
But then I accepted the feedback for what it was. A challenge.
I pulled out my old checklists and notes, and blew the dust off of them.
I then took my program – one that consists of short, simple (but intense!) workouts – and systemized it online. I turned it into a complete, step-by-step, day-by-day fool proof plan.
A plan that allowed me to melt 35 pounds in only 90 days (you can read the story and see my transformation here).
The simplicity of short fat blasting workouts really did for me is take away my excuses.  I focused on exercises that I knew how to do and didn't require any special equipment.
With no excuses left I began to feel more confident as I worked out, which lead to a clearing of the fog in my brain. The routines became second nature. I knew what I needed to do, I knew how to do it. The competence and confidence had led to clarity.
A Bump in the Road
My second transformation became a bump in the road. It became a story to tell. But more importantly, it led me to realize that we need simple, clear solutions. There's more than enough confusion to go around. And that confusion kills your confidence.
If you're interested in a done-for-you workout system that is designed to maximize your fat loss in minimum time while building your confidence, motivation and will power, then you'll check out the Metabolic Mayhem High Definition system and watch the short video below…

If you want to get your hands on Ben's Metabolic Mayhem, he's got on sale today through Friday. You'll get his entire collection of simple fat loss workouts, workout guides plus
==> CLICK HERE <== to see if you're up to challenge of making a lifestyle change.
(Visited 99 times, 1 visits today)