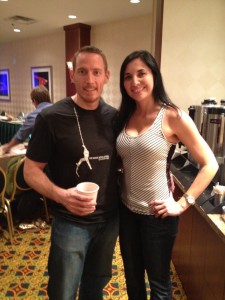 So, I don't eat very much bread.  When I do eat it I always go for the ezekiel bread, it's flourless and tastes really good.
But sometimes that type of bread isn't readily available. My cousin invited me to dinner one evening and they know I'm a pescatarian and dairy free (I have a sensitive stomach) they served a yummy meal but later their daughter shared a piece of her PB& J sandwich, it was on wheat bread.  I didn't think much of it and I ate.  Later I started feeling bloated and gasy, No Bueno!
I figured it was a fluke, so I tried it again just to see.  I ate a piece of whole wheat bread and it happened again. Huh?  I wonder if I was becoming Gluten sensitive to this particular bread.
I'm no expert when it comes to gluten and wouldn't even know where to begin with explaining.
I asked my friend Dr. Peter Osborne, the founder of the Gluten Free Society, on what the heck Gluten is and how to know if your sensitive to it?
I had no idea what he was going to say and I was shocked with the information he shared with me.  It really opened my eyes and broaden my knowledge on how Gluten foods can have a negative impact on our every day health.
Dr. O took time away from his busy schedule to share with us the importance of Gluten in our foods in our interview,  Dr. O covers some of the most pressing questions I had plus so much more.  Below is just part of our interview together…


Dr. Osborne shared with me the much needed information on Gluten, Take it away Dr…
Gluten in and of itself is a protein. It's not even a singular term; it's a plural term. It's a family of proteins found within grains. The common grains we eat in the U.S. are wheat, barley, rye, oats, corn, rice, and spelt. There are a number of different grains that are used to make breads, pastas and cereals.
Glutens are just the name of the family of storage proteins found within these grains. Gluten sensitivity in and of itself you hear the term frequently; gluten intolerance or a gluten allergy or a gluten sensitivity. That is when a person eats gluten or gluten proteins and it actually negatively impacts their health.
We always hear about whole grains. Eat your whole grain. Get more fiber. To a person who is gluten sensitive this would be the complete wrong advice to give them. What would end up happening is they would increase their fiber through whole grain consumption by eating gluten but they would actually be causing chronic inflammation inside their body.
Unfortunately for most people gluten when you eat it it's not like a peanut allergy. You know when a kid or somebody gets a hold of a peanut and their lips swell or their throat will constrict and sometimes it can be life threatening and they end up in the hospital?
Gluten sensitivity can be life threatening but it's not typically life threatening along the same lines. In other words, if you're gluten sensitive you don't eat gluten and have this severe, acute reaction. That's just not the way that gluten sensitivity works.
The way that it works is that the reaction can sometimes be very small. It may be something like brain fog or chronic fatigue or clouded memory. It might be something like acid reflux or heartburn. Some people that have gluten sensitivity their only symptom is chronic joint pain even though they haven't injured themselves. They may be trying to work out and their elbows hurt when they do pull-ups or their chest and their shoulders hurt when they try to do rows or other activities that are designed toward that muscle group. It's just a generalized type of pain that can occur.
There are about 190 different symptoms and syndromes of gluten sensitivity and it's not the same for everyone. I'll give you an analogy. If we took a prescription medication and we gave 1,000 people this drug they would not all have the same side effects from taking or using that drug.
The same thing can be said for gluten. If we take 1,000 people with gluten sensitivity they would not all necessarily react the same way from getting gluten exposure.
WOW!!
Sylvia again, thank you so much to Dr. Osborne for sharing the importance of Gluten in our foods. That's only a quick glimpse of  our interview. You can get more information on Gluten and find out if you are Gluten sensitive just by going HERE.
Stay tuned, I will post our full interview this weekend for you to have a listen.
In the meantime make sure you head over to this page for great additional information on what Gluten is all about, so head over HERE right now.
(Visited 75 times, 1 visits today)