Who doesn't ha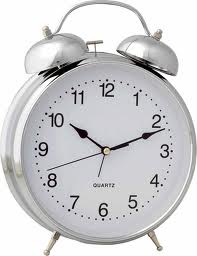 ve three minutes to spare?  I'm sure you've waited in line at Starbucks for your coffee and waited more than 3 minutes, right? Come on now, when I hear people say well I don't have time to workout I'm just to busy that's just nuts.
I had just about 3 minutes myself yesterday to workout, I spent my Sunday morning doing something I haven't done in years, I headed to a day spa.  My mom gave me a gift card I held onto for over 2 years.  I was ready to get up early but that's not how it went.
Somehow my alarm clock and I didn't quite get along that morning, my alarm clock ended up on the floor.  It's been so hot these past summer nights that getting a good night sleep has been a challenge for m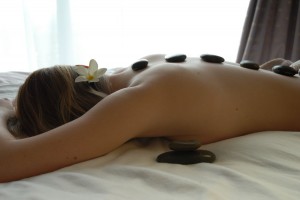 e lately.
So my plan to get up early get my workout in and head out to the spa didn't quite work.  I got ready as quickly as possible, took Rocky outside to do his business and he decided that was the morning he was going to sniff every single bush before he decided on the perfect one to pee on.  Doesn't it always happen that way, when you're in a rush they take forever.
Finally, I get to the day spa here in Orange county and I must say it can get a little uncomfortable walking in and seeing everyone walking around with, well, nothing really on. I walk myself over to my locker and change and fast as possible put on my rob and head over to get my massage.  This is not a regular thing for me to do but I figured it was a busy week so I would finally use my gift card.
It was sauna time right after the massage and that's where it go interesting.  I was sitting in there with a mom and her two daughters, I couldn't help but over hear their plan to getting in shape, then one of the ladies turned to me and asked me what I do.  I gave them some Pilates workout tips.
This I'm sure sounds lik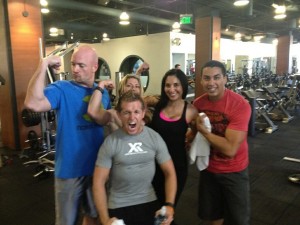 e a simple story, but picture sitting in a sauna, your sweating, some people have their swimsuits on and others don't.  Well, needless to say I was the only one with a swimsuit one.  So the conversation was pretty interesting to say the least.
After a good massage and a interesting conversation I realized one thing! I haven't gotten my workout in for the day…
There were still lots of errands on my to do list. I knew I had at least 3 minutes to get a quick workout in, I turned to my pal, Mike Whitfield's 3 minute Workout Finisher.  Now when Mike, Shawna (aka The Pull Up queen) and I get together for a workout it's nothing short of a butt kicking work out.
In 3 minutes flat, I was a hot sweaty mess and it definitely made up for me missing my early morning workout.  Sometimes all you need is a quicky
Check out an example of a 3 minute finisher that you will find here: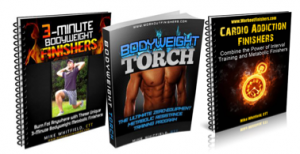 Finishers are pretty cool because you can be doing MY Pilates program and HIS finisher program at the same time.  Sometimes I like ending my workouts with his finisher or when I have limited time like I did on Sunday.
You can grab a copy of his 3 minute finisher.

So make sure you head over and grab your copy of 3 minute finisher before Mike does the math on this and raises the price.  I don't want you missing out on it.
(Visited 72 times, 1 visits today)