It's true!  I have a really bad sweet tooth…I can turn down certain desserts but when my little guy asks for some yummy homemade chocolate chips cookies I turn into the cookie monster!
So, I turned a traditional chocolate chip cookie recipe into a healthier version for us to indulge in.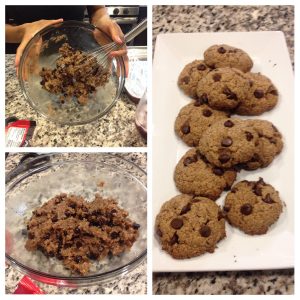 Here's what you need:
* 2 Cups Blanched Almond Flour
* 1/2 cup softened (not melted) coconut oil
* 1/3 cup coconut sugar
* 1 large egg
* 1/2 tsp baking soda
* Pinch of salt
* 1 tablespoon pure vanilla extract
* 1 cup organic dark chocolate chips
1. Preheat oven to 350 degrees.
2. Mix the almond flour, baking soda, sugar and salt in a bowl. Add the softened coconut oil and stir well until mixed. It should form a thick dough that is hard to stir.
3. Add the egg and mix well. Continue by adding in the vanilla extract and chocolate chips. Mix everything together.
4. On a baking sheet, spray with non-stick spray.  Roll the mix in your hands to form a small to medium size circle in your palm and place on the baking sheet.
5. This would make about 10 cookies, depending on big or small you form them into.
6. Bake for 10-12 minutes
(Visited 429 times, 1 visits today)