It's quite possible to create chocolate treats at home using unsweetened chocolate and a touch of wholesome sweeteners, to create an enjoyable treat that you can really feel good and giving and eating. This amazing recipe for Chocolate Drizzled Strawberries does not contain any refined sugar!
Feel free to sweeten your chocolate to taste with liquid stevia until your desired sweetness level is achieved.
Give it a try and see how delicious this wholesome chocolate treat is! Enjoy!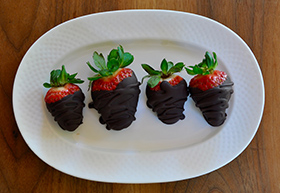 Servings: 2
Here's what you need…
1 oz unsweetened chocolate pieces or bar

¼ teaspoon coconut oil

½ teaspoon raw honey

liquid stevia to taste

4 large, ripe strawberries, chilled
Combine the chocolate, coconut oil and honey in a double boiler over low heat. Stir until fully melted. Add stevia as needed to taste.

Line a small plate with parchment paper. Drizzle the strawberries with chocolate and place on the prepared plate. Chill until serving. Enjoy!
Nutritional Analysis: One serving equals: 89 calories, 8g fat, 7g carbohydrate, 3g sugar, 4mg sodium, 3g fiber, and 2g protein.