Strong is the new skinny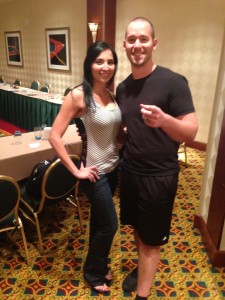 ? Oh Yes! it does make sense and being strong is certainly a results of working hard in and out of the gym with your workouts.
But, what happens when you can't move or are limited by overly developed muscle or extreme tightness in various spots in the body?
You either fall off the wagon or keep doing what you're doing until you get bored and then are forced to make a change in your workout to keep a fit toned body.
Here's what's pretty cool, my friend Tyler is an expert on Progressive movements which I truly love because they work hand in hand with Pilates.
It's an ongoing progression of movements that continue to challenge the body where there are no plateaus or boredom from your workout.
Watch the video below where Tyler outlines the Benefits of Progressive Movements >>>

A little summary of the Benefits of Progressive Movements:
***Avoid Plateaus forever
There's always another movement you can work on to increase movement complexity.
***Build Functional Lean Muscle
Increase skill of movement, goal is to increase strength that gives real muscle function movements.
**Performance = Body
By decreasing your performance a lean toned body is the result.  For example by starting to do your very first pull up to doing 20 of them results in overall better performance and lean toned tight body. The better you perform the better body you end up having.
**Never get Bored
You always that next exercise to look forward to another goal to real so you never get bored. You focus on getting a little bit better with every move.

**Guaranteed results
As long as you are following the progressive movements you'll not only achieve great results but you'll have a lean toned fit body.
Below is a video Tyler created where he demonstrates a progressive movement so make sure to watch this video and discover how to burn more fat with movement progressions >>>
If you enjoyed that video from Tyler and want to find out more about progressive movements, I've got you covered…
Click HERE To Check Out Tyler's Movement Progression Systems…and before I forget to mention. Tyler is a brand new Dad to a precious little girl.
In celebration of the new little addition to his family, he has a huge sale on all of his programs.  Save 50-70% Off all of Tyler's programs! by going HERE and checking it out.
(Visited 77 times, 1 visits today)