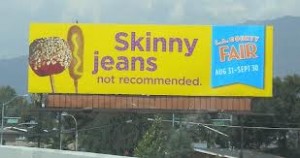 I can say that the Bacon Donut does look a bit appealing to anyone who enjoys eating bacon. I visited the LA County Fair this past weekend with my son and his 4th grade class.  I had a blast although I chaperoned a group of 4th graders.
And my goodness do they have energy.  There was a lot of walking and the heat didn't make it any easier.  The venue where the fair is held every year has many up climb hills, it was great walking around and keeping up with all the kids.
To my surprise, there was at least 30 school buses parked and filled with kids.  If you haven't been to the LA County Fair or a local fair in your area it's worth the time to go, it is truly an experience.  I'm floored with so much variation and crazy concoctions of food is unbelievable.
There were stands with chocolate covered butter, chocolate covered bacon, deep fried snickers and the bacon donut.  I was fascinated with the size of this donut and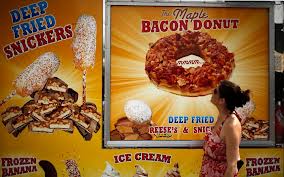 how many people were waiting in a long line to buy one of these bad boys. My mouth dropped I was shocked with the line and even more shocked when I looked down this ladies plate and couldn't believe the size of this thing.
It's pretty common and customary to go wild at these fairs and eat like crazy but the stomach and the constant times in the bathroom would prove otherwise.  A number of my friends were sick from indulging in these crazy foods.
While sitting and eating our packed lunches with my group of kids I couldn't help but notice a woman I would say in her late thirties waiting eagerly in line. I was curious to see which one of the interesting concoctions she was going to pick.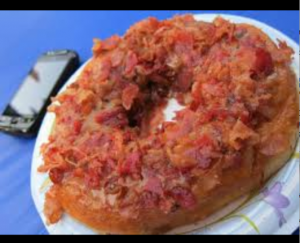 She walked away with one of those huge Bacon Donuts, this think was unreal, I came up to her and asked if I could snap a quick picture of it, I know that was silly but I was so intrigued by it.
These kinds of foods fascinate since I'm not a meat eater, I have a super sensitive stomach which means if I eat any meat I'm heading to the hospital.
This donut was bigger than her phone, CRAZY!
Ok, enough about this silly donut.  Even more of a reason to ensure you get a workout in…
So  I wanted to give you a quick workout for your upper body and obliques, you can do this at home or at the gym on a mat.
Besides, after seeing that donut wouldn't you want to make sure you get a Pilates workout in and sweat! Here's the Bacon Donut Workout to get rid of the love handles!

(Visited 306 times, 1 visits today)