I've been spending the last few days in beautiful Miami hanging out with my Fit Pro friends.  You may have heard me mention Shawna and Mikey.  I have a blast hanging out with these two.
I caught them doing what I believe was trying to get over to the other side of the dock on the Marina.  If I'm not mistaken that sign on the right says Private Property NO Trespassing.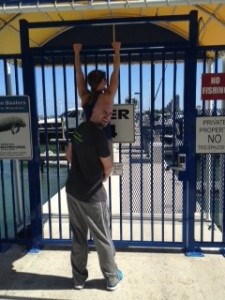 But then again, Shawna is known to jump up and do pull ups practically anywhere, so this may be the case.
In between the pull ups and climbing over fences I got Mikey to show me one of his Ab Finisher workout.
I've been incorporating Mikey's finishers to my workouts lately and I'm really digging how fast and super effective the movements are.
However, I need to warn you before you watch the video, I'm a bit clumsy going through the move, Mikey is an expert at this and I'm tripping over my feet to keep up.
Below is the step by step description of the workout video above, Give it a Go….
* 4 Spiderman Push Ups
* 4 X-Body Mountain Climber
* Rest for 4 Seconds
* Repeat up to 8 Times
What I love about the Ab Finisher program is how super quick and effective the workout is. The fat burning moves in the workout are effective without wasting a lot of time.
If you liked the workout as much I did and want more fun, fast effective workouts head over to Ab Finishers and pick up a copy for $7 Bucks!
Don't let this one pass you by, Mikey has discounted the program until midnight tonight, it goes back to regular price after midnight tonight.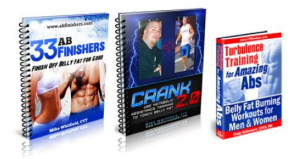 Get your Ab Finishers right HERE and add them into your daily workouts at the very end.  That's what it's all about. Always Finish Strong!
(Visited 195 times, 1 visits today)