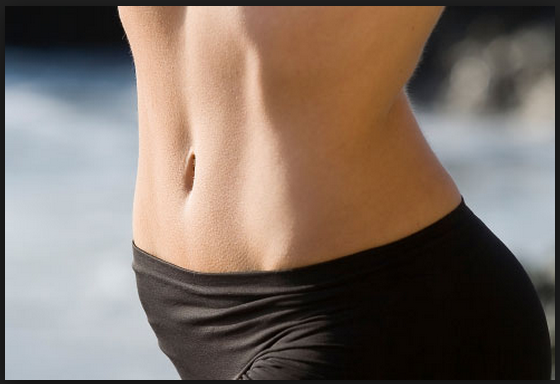 Wish your stomach was flatter and more toned?
This is the one area majority of women and men struggle the most with.  As we get older it becomes especially challenging.
Here's the thing, exercise alone will not get you a toned midsection – what you eat is a huge part of the equation.
I've listed 5 ways to improve your eating habits that will dramatically flatten your tummy:
#1 – Enjoy Natural Sweets
Traditional sugar-filled sweets will quickly add up around your waistline. Instead of going for sugary sweets, enjoy natural sweets.
 Fruit is nature's candy. Reach for sweet, seasonal fruit for dessert.
 Avoid foods that contain white sugar or high fructose corn syrup.
 Use wholesome sweeteners such as stevia, pure maple syrup, brown rice syrup or 

dates in your recipes instead of white sugar.  Eliminate white sugar from your kitchen.
#2 – Don't Eat after 7pm
This is a simple and effective way to lose fat. Late night eating is the most damaging to your waistline, so cut it out completely.
Brush your teeth immediately following dinner.  Once your teeth are brushed, you've put a period to the end of your consumption for the day.
Change your evening routine. If you've always ended your day watching your favorite shows with your hand in the snack bowl, then now is the time to change things up. Find activities that don't revolve around food and stick with those.
Make it a habit. The first weeks will be the hardest, but soon your new no-food-after-7pm routine will feel normal.
#3 – Eat More Fiber
Most people simply do not get enough fiber in their diets. Fiber is essential when it comes to getting lean since it is low calorie while filling you up.
Instead of seeing salad just as a side item, make salads into meals.  Add protein to a large pile of greens.
Make veggies a part of every meal. There are tons of benefits to eating more vegetables, just know that your body will become healthier and leaner with each fibrous bite.
Fruits are a delicious source of fiber. Incorporate fresh, seasonal fruits into your daily diet.
#4 – Cut Back On Carbs (and know when to have them)
Did you notice I didn't say to cut out all carbs?! but rather to cut back on carbs. These diet tweaks are meant as lifestyle changes that you stick with long term. Cutting back on carbs is a realistic and very effective way to drop fat.
Always choose whole grain bread and pasta over white. Whole grains are less likely to be stored as fat than processed grains.
Eat half of the carbs you normally do. Eat your sandwich open-faced and reduce the size of pasta serving.
Avoid carb-filled snacks between meals. Instead of crackers or chips, have fresh fruit and veggies.
#5 – Drinks Tons of Water
Drinking plenty of water is another extremely simple way to promote fat loss. Chronic dehydration leads to false hunger signals and unnecessary calorie consumption.
Drink a large glass of water before each meal. This will prevent overeating.
Choose water instead of sugar-filled sodas and juices. Sugar-filled drinks are a huge weight-gain trap.
Carry a water bottle that you can refill multiple times throughout your day. It will keep you hydrated
Oh!! And when you are grocery shopping keep this mind…Read the Back Label, Not the Front!
As a rule of thumb, never trust the claims on the front of a food package. Claims like: heart healthy, whole grains, or fiber-filled are never reason enough to purchase the item.
The real truth about a packaged food item is hidden in the ingredient list on the BACK label, not in the bold claims on the front.
Scan that ingredient list for high fructose corn syrup, corn syrup, hydrogenated or partially-hydrogenated oils – if the food contains these items then it's not healthy and should not be eaten.
I love Salmon!  Below is a recipe for a Santa Fe Salmon Salad…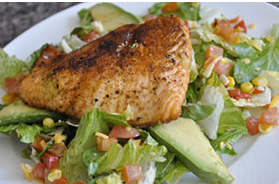 Here's what you need…
2 (3.5 oz) salmon fillets
Santa Fe seasoning blend (2 teaspoons cumin, 1 teaspoon coriander
1 teaspoon chili powder, 1 teaspoon dried oregano, 1 teaspoon thyme,
1/8 teaspoon clove, 1/8 teaspoon allspice, 1/8 teaspoon ground cinnamon)
4 cups romaine lettuce, chopped
1/2 cup tomato, chopped
1/4 cup corn kernels
1/8 cup low fat cheese, grated
1/8 cup canned red peppers, finely chopped
1/2 avocado, sliced
1. Coat the salmon fillets with Santa Fe seasoning. On a pre-heated grill, cook for 8-10 minutes on each side, until flaky and cook all the way through. Remove from heat.
2. On a plates arrange a bed of lettuce, topped with half of the tomato, corn, cheese, peppers and avocado. Place the fillet on top.
(Visited 573 times, 1 visits today)