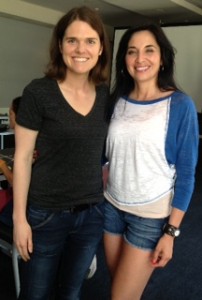 I've been super busy this week finishing up a HUGE new program that I will be releasing in the next few days…
But, I didn't want to leave you empty handed without a workout to do.  I emailed my friend Kate and asked for a quick workout that jump starts the metabolism.
Check it out and let us know what you think by leaving a comment below.
*************************************************************
10 Minute Workout to Boost Your Metabolism (no cardio)
By Kate Vidulich, BSc, ACSM-HSF, CTT, Exercise Physiologist
Author of the fat loss accelerator program

What's the best way to boost your metabolism post workout and burn more calories while you're sleeping?
Intensity.
There's no app for that and I'm afraid I don't have a secret potion to sell you either. The only magic here is in the afterburn effect – when you bring the intensity and challenge yourself.
But you must be wondering… How can YOU increase workout intensity?
– Reduce your rest time
– Increase resistance
Take your pick. Make a change, and you'll see a change in the mirror.
Until now, I've never shared my "underground" secret training methods with anyone, besides my high-powered executive clients.
What is a Fat Loss Accelerator?
In short, it's a hybrid metabolic complex that is very demanding, set up in circuit style with no rest between the exercises. You move through a series of exercises that reflect the big movement patterns: think squat, push, pull, lunge, deadlift, and core work to condition your entire body in one single period.
Of course, this means you burn more calories in less workout time. And thanks to the afterburn effect, you can continue burning more calories post workout, while you're out with your family.
My clients fell in love with this concept years ago, when I introduced them to this style of training. Sure it's not for the faint hearted, but there's something special and rewarding about conquering a challenge. If you're willing to accept the challenge, you will see rapid, sexy results.
Who is this workout for?
It's NOT for people who hate training hard. If you're looking for an easy way out or the latest quick fix, this is definitely not for you.
It's for intermediate and advanced folks who have reached a plateau, or are bored with their usual cardio or intervals workouts and are looking for something different.
Ready to test yourself? Here's a Fat Loss Accelerator workout you can try today.
You only need one pair of dumbbells.
Warning: It's not for the faint hearted.
Check out the Fat Loss Accelerator Workout below:

Perform each of the following in order with no rest, and without putting the weight down. At the end of the circuit, rest for 60 seconds. Repeat for a total of 3 rounds:
A) DB Squats x 8
B) DB Bent Over Row x 8
C) DB Alternating Reverse Lunge x 8
D) DB Push Ups x 8
Why is this style of workout so effective?
You can boost the intensity without killing any one muscle group, allowing you to burn more calories faster with total body movements. You only need one weighted resistance (such as a pair of dumbbells) and a small workout space.
Metabolic workouts, like this one, also increase the afterburn effect to significantly higher levels than traditional cardio workouts, meaning you burn more calories after the workout, while at rest.
More importantly, you can add Fat Loss Accelerators workouts to your current training program to replace your cardio and use for off-day conditioning, so you don't have to start all over again.
You'll burn even more calories, lose more fat and boost your afterburn, while having fun at the same time.

  get more fun fatloss accelerator workouts
  from Kate.