Who doesn't LOVE pancakes, right??
Jonah loves pancakes in the morning, we took our time and whipped up these high protein pancakes.
They are yummy and DELICIOUS!
No-Wheat High Protein Pancakes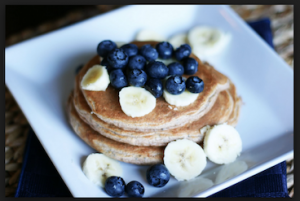 Here's what you need:
* 1/3 cup fat-free whipped cottage cheese
* 1/4 cup egg whites
* 2.5 scoops of Vanilla Organifi Protein (30g of protein)
* 1 tbsp sugar free stevia-sweetened syrup or Agave nectar
* 1/2 cup blueberries
* 1/2 banana
1. Combine the cottage cheese, egg whites, and protein powder in a bowl. Blend with a hand-held blender for best results.
2. Pour the batter into a pan; cook each side approximately 2 mins.
3. Top with sugar free syrup or Agave nectar.
4. Add blueberries and bananas
Makes 3 pancakes for a total of 45 Delicious grams of protein.
Looking for more recipe ideas? Get the 7 Day Clean Eating Meal recipes, CLICK HERE.