Since we are Holiday break from school and Jonah loves pancakes in the morning, we took our time and whipped up these high protein pancakes.
They are yummy and DELICIOUS!
No-Wheat High Protein Pancakes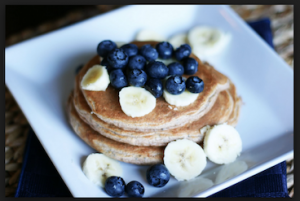 Here's what you need:
* 1/3 cup fat-free whipped cottage cheese
* 1/4 cup egg whites
* 2.5 scoops of Vanilla BioTrust Low Carb (30g of protein)
* 1 tbsp sugar free stevia-sweetened syrup or Agave nectar
* 1/2 cup blueberries
* 1/2 banana

1. Combine the cottage cheese, egg whites, and protein powder in a bowl. Blend with a hand-held blender for best results.
2. Pour the batter into a pan; cook each side approximately 2 mins.
3. Top with sugar free syrup or Agave nectar.
4. Add blueberries and bananas
Makes 3 pancakes for a total of 45 Delicious grams of protein.